La Fabrique du vivant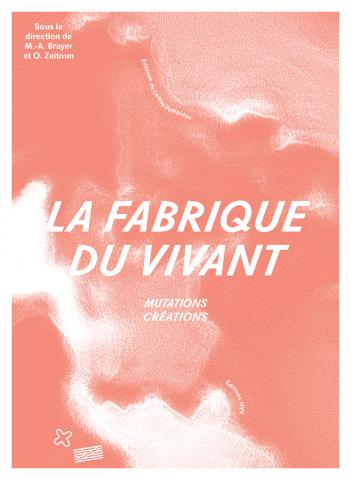 La Fabrique du vivant
Mutations/Créations
Après "Imprimer le monde" et "Coder le monde", "La Fabrique du vivant" est le troisième catalogue consacré au code et à la création, dans le cadre des expositions du cycle Mutations / Créations du Centre Pompidou (Mnam/Cci).
Abstract
À l'ère du numérique, la création se donne dans une interaction nouvelle avec le domaine des sciences du vivant, les neurosciences, la biologie synthétique. C'est la matière même qui est explorée. Les biotechnologies sont à présent utilisées comme médium par les artistes, les designers ou les architectes. Si les outils numériques de simulation générative autorisent la recréation du vivant, la question qui se pose aujourd'hui est : comment programmer le vivant ?
La Fabrique du vivant retrace une archéologie du vivant et de la vie artificielle. Plusieurs essais dans le champ de l'épistémologie du vivant, de l'architecture, de l'histoire de l'art et du design ainsi que de la prospective industrielle interrogent les enjeux de la biofabrication dans la conception d'objets durables ou ceux d'une architecture bio-computationnelle qui met en oeuvre de nouvelles formes de nature artificielle. Une cinquantaine de créateurs — artistes, designers, architectes — questionnent ce nouvel écosystème numérique.
Liste des artistes, designers et architectes  : Shamees Aden, François Azambourg, Heather Barnett, Sonja Bäumel & Manuel Selg, BCL (G. Tremmel & S. Fukuhara), Hicham Berrada, Burton Nitta (M. Burton & M. Nitta), Julian Charrière, Natsai Audrey Chieza, Carole Collet, Amy Congdon, Marcos Cruz & Brenda Parker (Bio-ID, UCL), The Disease Biophysics Group de l'Université de Harvard, Alexandre Echasseriau, Jonas Edvard, A. D. Ginsberg, C. Agapakis & S. Tolaas, Lia Giraud, Guillian Graves (Big Bang Project), Andreas Greiner, Perry Hall, Jean-Luc Hervé, Marlène Huissoud, Eduardo Kac, Amy Karle, Allison Kudla , Joris Laarman, The Living (David Benjamin), Julia Lohmann , Julian Melchiorri , MIT Media Lab (C. Hsin-Liu Kao) , Isaac Monté, Gabriela Munguia, Officina Corpuscoli, Neri Oxman & The Mediated Matter Group, MIT, Claudia Pasquero & Marco Poletto (EcoLogicStudio), Špela Petrič, PILI (Marie-Sarah Adenis), Pamela Rosenkranz, Daan Roosegaarde, Karl Sims, Studio Formafantasma , Studio Nienke Hoogvliet , Studio Klarenbeek & Dros, Studio Libertiny , The Tissue Culture & Art Project (Oron Catts & Ionat Zurr) en collaboration avec R. Foster, Samuel Tomatis, Tim van Cromvoirt, Teresa van Dongen, Elaine Whittaker, Worcester Polytechnic Institute, Wyss Institute de l'Université de Harvard, XTU Architects (Anouk Legendre & Nicolas Desmazières), Hongjie Yang, Tokujin Yoshioka.
Publication sous la direction de Marie-Ange Brayer  : essais de  Samuel Bianchini et Emanuele Quinz, Marie-Ange Brayer, Carole Collet, Spyros Papapetros et Olivier Zeitoun.
Graphisme  : E+K.
Sortie le 18 février 2019.
Contents
P 40 Timeline / ESSAIS / P 59 La fabrique du vivant, Marie-Ange Brayer - P 77 Sculpter le vivant, Olivier Zeitoun - P 91 La logique architecturaledu vivant, Spyros Papapetros - P 105 Maintenance, maintenant, main tenant, Samuel Bianchini & Emanuele Quinz - P 117 Le biodesign, un catalyseur d'innovation écologique pour l'industrie textile ?, Carole Collet / OEUVRES / P 130 Shamees Aden, P 132 François Azambourg, P 134 Heather Barnett, P 136 Sonja Bäumel & Manuel Selg, P 138 BCL (G. Tremmel & S. Fukuhara), P 140 Hicham Berrada, P 142 Burton Nitta (M. Burton & M. Nitta), P 144 Julian Charrière, P 146 Natsai Audrey Chieza, P 148 Carole Collet, P 150 Amy Congdon, P 152 Marcos Cruz & Brenda Parker (Bio-ID, UCL), P 154 The Disease Biophysics Group de l'Université de Harvard, P 156 Alexandre Echasseriau, P 158 Jonas Edvard, P 160 A. D. Ginsberg, C. Agapakis & S. Tolaas, P 162 Lia Giraud, P 164 Guillian Graves (Big Bang Project), P 166 Andreas Greiner, P 168 Perry Hall, P 170 Jean-Luc Hervé, P 172 Marlène Huissoud, P 174 Eduardo Kac, P 176 Amy Karle, P 178 Allison Kudla , P 180 Joris Laarman, P 182 The Living (David Benjamin), P 184 Julia Lohmann , P 186 Julian Melchiorri , P 188 MIT Media Lab (C. Hsin-Liu Kao) , P 190 Isaac Monté, P 192 Gabriela Munguia, P 194 Officina Corpuscoli, P 196 Neri Oxman & The Mediated Matter Group, MIT, P 198 Claudia Pasquero & Marco Poletto (EcoLogicStudio), P 200 Špela Petrič, P 202 PILI (Marie-Sarah Adenis), P 204 Pamela Rosenkranz, P 206 Daan Roosegaarde, P 208 Karl Sims, P 210 Studio Formafantasma , P 212 Studio Nienke Hoogvliet , P 214 Studio Klarenbeek & Dros, P 216 Studio Libertiny , P 218 The Tissue Culture & Art Project (Oron Catts & Ionat Zurr) en collaboration avec R. Foster, P 220 Samuel Tomatis, P 222 Tim van Cromvoirt, P 224 Teresa van Dongen, P 226 Elaine Whittaker, P 228 Worcester Polytechnic Institute, P 230 Wyss Institute de l'Université de Harvard, P 232 XTU Architects (Anouk Legendre & Nicolas Desmazières), P 234 Hongjie Yang, P 236 Tokujin Yoshioka / P 238 Bibliographie
Informations
Language(s):

French

Référence:

978-2-37382-014-0

Nombre de pages:

256

Couleur(s):

quadri / +- 160 illustrations

Type de reliure:

Broché

Dimensions:

100 × 150 × 205 mm

Poids:

600 g

Partenaire:

Coédité avec les Éditions du Centre Pompidou