57 Métal - Métal 57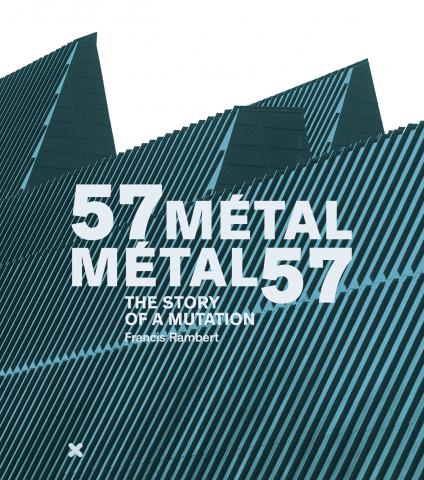 57 Métal - Métal 57
The story of a mutation, Francis Rambert
From Claude Vasconi to Dominique Perrault, Francis Rambert, traces in this book, through numerous testimonies and two essays, the story of 57 Métal : iconic building of the 1980s, designed by the architect Claude Vasconi (1940-2009) for the Renault group, in Boulogne-Billancourt...
Abstract
At this time of major transitions, the story of the mutation of the 57 Métal, an important piece of the industrial heritage, is indicative of an ideological change: the end of the tabula rasa. The time has come to transform buildings rather than destroy them: sustainable development demands it. This workshop, built in 1984 on the Trapèze in Boulogne-Billancourt, is emblematic of the policy of Bernard Hanon, the former CEO of Renault who, at the end of the "Thirty Glorious Years" (1945‑1975), was determined to modernize the automaker's historic site.
A masterpiece by Claude Vasconi, this building would earn him the Grand Prix national de l'Architecture. It splendidly revisited the "saw‑tooth roof" theme and was the first element of a large-scale urbanism project, "Billancourt 2000," which would suddenly be halted in 1985, heralding Renault's departure for Guyancourt. The Billancourt page was subsequently turned.
This book is rich in personal accounts. It tells the story of an industrial conversion, in a process focused on expanding the service sector begun in the very beginning of the 2000s that led the architects Jakob+MacFarlane to undertake a first transformation of the building for the automaker.
The work also relates the operation that was carried out, on the initiative of the minister of culture, to save the 57 Métal from its scheduled demolition after the building was sold. In this tense debate, the intervention of BNP Paribas Real Estate with the architect Dominique Perrault marked a decisive step in ensuring another life for the building. Consequently, the 57 Métal is being transformed into the "Métal 57," an office building  that will bring experimentation, a workplace open onto the city.
The challenge and the determination of this second transformation concern the conservation of a piece of exceptional architecture as much as its transformation in order to adapt to new uses. An economic equation and architectural appropriateness are at the heart of this project, already described as a textbook case.
Contents
P 8 THREE NAMES AND THREE LIVES, Thierry Laroue-Pont P 11 THE CHALLENGES OF A TRANSFORMATION , Francis Rambert P 37 THE PROMOTION OF HERITAGE THROUGH THE CONTEMPORARY, Dominique Perrault P 49 FROM VASCONI TO PERRAULT, A CONVERSATION ABOUT ZINC, Francis Rambert P 61 THE CHALLENGE OF THE HERITAGE OF THE 1970S-1980S, Pierre-Antoine Gatier P 71 ARCHITECTURE, A CORPORATE IMAGE, Bernard Hanon P 79 ARCHITECTURE AND CAR DESIGN, François Barré P 87 AN ENGINEERS' CULTURE , Michel Auroy P 95 THE SOUL OF BILLANCOURT , Roger Sylvain P 101 A MUTATION IN CONSTRUCTION LOGIC, Dominique Jakob and Brendan MacFarlane P 113 57 MÉTAL —CLAUDE VASCONI / SQUARE COM —JAKOB+MACFARLANE / MÉTAL 57 —DOMINIQUE PERRAULT ARCHITECTURE P 163 THE READING OF A LANDSCAPE , Marc Barani P 171 IN PRAISE OF DIALOGUE , Jean-Pierre Duport P 181 THE "TRAPÈZE" EXERCISE , Pierre-Christophe Baguet P 189 OTHER TIMES, OTHER STRATEGIES , Cécile de Guillebon and Anne-Christine Brusset-Delouvrier P 197 THE URBAN DIMENSION , Christian Devillers P 205 THE PERMANENCE OF THE WORK , Ignacio Prego P 217 THE PLACE OF EXPERIMENTATION OF USES , Thierry Laroue-Pont, Thomas Charvet, Benoît Fragu and Caroline Sainderichin P 228 APPENDICES: BIOGRAPHY, PRINCIPAL CREATIONS AND BIBLIOGRAPHY: CLAUDE VASCONI, JAKOB+MACFARLANE and DOMINIQUE PERRAULT P 248 CREDITS AND ACKNOWLEDGEMENTS
Informations
Language(s):

English

Référence:

978-2-37382-012-6

Nombre de pages:

256

Couleur(s):

Four colors

Type de reliure:

hard cover

Dimensions:

1 × 230 × 260 mm

Poids:

1600 g

Partenaire:

BNP Paribas Real Estate

Auteur:

Rambert Francis