Design and the Wondrous: On the Nature of Ornament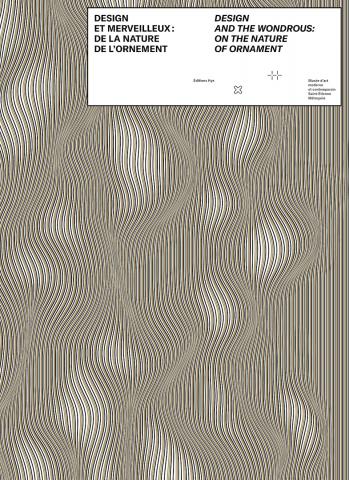 Design and the Wondrous: On the Nature of Ornament
The notion of ornament in design is inspired by arabesques, motives and decorative systems of nature. By combining these forms with new technologies and materials, design is naturalizing and metamorphing.
Language(s):
English, French
Abstract
The catalogue Design and the Wondrous: On the Nature of Ornament, produced as part of the eponymous exhibition, shows us this evolution; a link between "the natural and the supernatural" (Étienne Souriau), the ornament then opens up to the notion of "the Wondrous".
The book questions a recent history of design in which the notion of ornament is at the heart of new design and production logics. Ornament reappeared in the foreground in the early 1980s in Italy with the Memphis group. A new liberatory approach then transforms ornamentation into a narrative system. With the advent of digital technology and the redefinition of the role of ornament in the 2000s, the ornamental form is now given a calculated dimension of morphogenesis: its dynamics are anchored in the processes of nature's growth. In all these achievements, the generative dimension of nature has given ornament a new structural role.
Based on a selection of 100 works by more than fifty artists, organized into seven themes* accompanied by notices, four essays (Marie-Ange Brayer, Spyros Papapetros, Martine Dancer-Mourès and Sophie Fétro), give us an insight into the evolution of design and ornament in the digital age. A period when ornamentation opens up to the notion of "the Wondrous" in a new generative dimension of nature.
Artists & designers: Laure Albin Guillot, Alisa Andrasek, François Azambourg, Aurel Bauh, Mathias Bengtsson, Francis Bitonti, Tord Bontje, Ronan et Erwan Bouroullec, Aldo Bakker, Gijs Bakker, Andrea Branzi, François Brument, Louise Campbell, Fernando & Humberto Campana, Wendell Castel, Philippe Stark, Demarkesvan, André Dubreuil, Ammar Eloueini, EZCT ARCHITECTURE & DESIGN RESEARCH, Vincent Fournier, Benjamin Graindorge, Konstantin Grcic et David Trubridge, Frank Gehry, Michael Hansmeyer et Benjamin Dillenburger, Olivier van Herpt, Junya Ishigami,  Pierre Jahan, Hella Jongerius, Patrick Jouin, Andrew Kudless, Shiro Kuramata, Joris Laarman, Matthieu Lehanneur, Ross Lovegrove, Nendo, Neri Oxman, Casey Reas, Albert Renger-Patzsch, Aleksandrina Rizova, Il Hoon Roh, Jenny Sabin, Franke Tepjkema, Thonet Frères, Marcel Wanders, Joseph Walsh, Eugen Wiskovsky.
* Nature as Ornement, Fractals, Arabesques, The Ornement and the digital, The Wondrous, Evanescence, Cabinet of curiosities
Informations
Language(s):

English, French

Référence:

978-2-37382-015-7

Nombre de pages:

184

Couleur(s):

quadri et n & b - + 135 illustrations

Type de reliure:

Broché

Dimensions:

1 × 24 × 33 cm

Poids:

1100 g

Partenaire:

Musée d'art moderne et contemporain de Saint-Étienne Métropole