Flight Assembled Architecture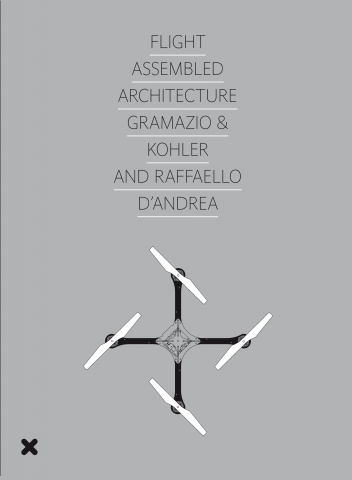 Flight Assembled Architecture
Gramazio & Kohler et Raffaello d'Andrea
Fabio Gramazio and Matthias Kohler are architects with multi-disciplinary interests, ranging from computational design and robotic fabrication to material innovation. Raffaello d'Andrea is professor of Dynamic Systems and Control.
Language(s):
English, French
Abstract
Together, they developed the first architectural installation assembled by flying robots. The installation's 1,500 modules are cooperatively assembled by a group of quadrotor helicopters, which are governed by mathematical algorithms that translate digital design data into flight behavior. What unfolds is a 1:100 scale model of an architectural vision for a 600 metre high "Vertical Village" for 30,000 inhabitants. In documenting the project, this book reveals a radically new way of thinking about and materialising architecture . 
Contents
P. 5 MODEL OR ARCHITECTURE ? THE EMERGENCE OF A NEW ARTIFACT - MARIE -ANGE BRAYER // P. 7 THE VERTICAL VILLAGE - FABIO GRAMAZIO, MATTHIAS KOHLER, JAN WILLMANN // P. 13 THE ARCHITECTURAL PROJECT // P. 26 THE INSTALLATION // P. 76 A NEW PHYSIS OF ARCHITECTURE FABIO GRAMAZIO, MATTHIAS KOHLER // P. 101 DYNAMIC WORKS RAFFAELLO D'ANDREA // P. 119 THE RESEARCH // P. 138 TOWARDS AERIAL ARCHITECTURES AURÉLIEN VERNANT // P. 153 BIOGRAPHIES / BIBLIOGRAPHIES
Informations
Language(s):

English, French

Nombre de pages:

168

Couleur(s):

four coulour - 150 illustrations

Type de reliure:

soft bound

Dimensions:

1 × 15 × 20 cm

Poids:

400 g

Partenaire:

With the support of : Région Centre Centre, Drac Centre/Ministère de la culture et de la communication, ETH Zurich.