MAD X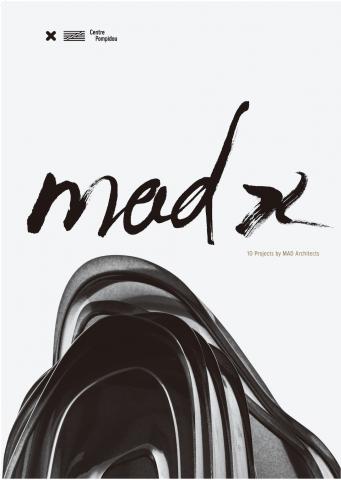 MAD X
10 projects by MAD Architects
Founded by Ma Yansong in 2004, MAD Architects designs and builds fictional architectures that invoke the links between man and nature. Internationally recognized with the "Absolute Towers" (Canada, 2012) or more recently with the "Lucas Museum of Narrative Art" (USA, in progress), MAD Architects, will deliver this year its first project in Europe ("Unic", Paris). On the occasion of the presentation of the agency's models at the Centre Pompidou MAD edited with HYX Publishing: MAD X - 10 projects by MAD Architects.
Language(s):
English, French
Abstract
MAD was founded, in Beijing, in 2004 by architect Ma Yansong. The agency designs organic and dreamlike architectures that evoke - one could say invoke - man's spiritual and emotional connection with nature, the sky and the earth. An architecture of fiction, even anticipation, where nature and architecture merge.
In 2018, the Centre Pompidou (Mnam-Cci) acquired a set of models for its permanent collections representing the agency's most significant projects from 2005 to the present day. On the occasion of the presentation of these works in the collections of the Centre Pompidou, MAD Architects edited MAD X 10 projects by MAD Architects with HYX Publishing.
This book, conceived and designed by Ma Yansong, offers a "journey" among the agency's most significant projects, through photomontages, drawings, models and photographs. In particular, the following are presented: the agency's first international project built in Canada, the "Absolute Towers" (2006-2012) - also known in Toronto as "Marilyn Monroe Towers"-; the "Harbin Opera House" (2010-2015) and the "Chaoyang Park Plaza" (2012-2017) in China; the "Clover House" (2012-2016) in Japan; the "Lucas Museum of Narrative Art" in the United States (2016-2021); and "UNIC", the first project, carried out in Europe, to be delivered in Paris this year. A contribution by Frédéric Migayrou allows us to discover and put into perspective the aesthetic and philosophical challenges of this naturalized architecture. A portrait of Ma Yasong by Frédéric Edelmann introduces the projects presented.
If the Roman numeral "X" symbolizes the agency's ten emblematic projects, it also has a completely different meaning for Ma Yansong: the unknown and a passion for exploring new territories. How can we imagine the city of the future? In its work, MAD Architects strives to create a balance between human beings, the city and the environment, with particular attention to the spiritual and emotional needs of the inhabitants, their connection with nature.
Contents
MAD X | Ma Yansong P 2 - Convolutions | Frédéric Migayrou P 6 - Ma Yansong - At the speed of a racing horse | Frédéric Edelmann P 14 - Chaoyang Park Plaza P 20 - Harbin Opera House P 34 - Absolute Towers P 56 - Nanjing Zendai Himalayas Centre P 70 - Lucas Museum of Narrative Art (Chicago) P 82 - Lucas Museum of Narrative Art (Los Angeles) P 90 - Pingtan Art Museum P 104 - East 34th P 112- Yabuli China Entrepreneur Forum Conference Centre P 120 - Clover House P 132 - UNIC P 146
Informations
Language(s):

English, French

Référence:

978-2-37382-016-4

Nombre de pages:

160

Couleur(s):

four-colour et b &w

Type de reliure:

Soft bound

Dimensions:

1 × 250 × 350 mm

Poids:

1000 g

Partenaire:

Edited by MAD Architects with HYX publishing