Ant Farm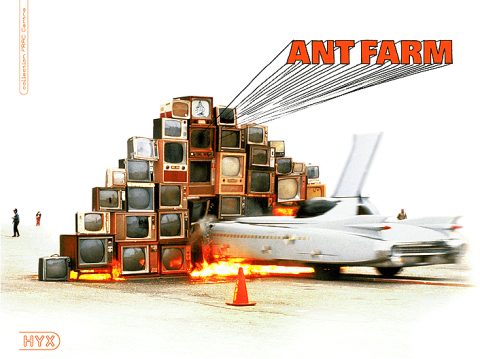 Ant Farm
Ant Farm assert themselves as " underground " architects, just as ants are. Playing with the key figures of the American myth, they create a number of works which are now considered as some of the most influential in the history of the twentieth-century art, as is the Cadillac Ranch, located by the side of the legendary Route 66 in Amarillo, Texas. The Cadillac and the TV, Monte Helman - style road movies turned media movie : they produce videos, performances, installations, exercising a conceptual activity until 1978 when a fire in their studio marks the end of the group. In this era of globalisation, Ant Farm provide us with a style, a writing, and a layout which can help measure their overtly transgressive and modern influence...
Language(s):
English, French
Abstract
The 1960s are a time of crisis. Western countries are shaken by the questioning of the very cause of their foundations. A counter-culture arises, made up of political ideas, a way of life and philosophical concepts clearly opposed to the culture of the industrialised society. This is the context in which Ant Farm, a group of San-Francisco and Houston-based radical architects, is founded by Doug Michels, Chip Lord and Curtis Schreier in 1968. Influenced by Buckminster Fuller, Paolo Soleri, Archigram, the nomadic way of life, choreographic performances of Anna et Lawrence Halprin. Doug Michels et Chip Lord, two graduates of Tulane and Yale schools of architecture, much in the idealistic spirit of that time were determined to adopt an entirely alternative approach to architecture. Joined by Curtis Schreier, Hudson Maquez and by a number of other members, they found a community, where construction becomes an event. This ephemereal architecture is represented by the inflatables . Like the austrians Haus-Rucker-Co and Coop Himmelb(l)au or the french Aérolande Ant Farm used inflatables as instruments for communication and experimenting. In 1973 Ant Farm build, using the autoconstruction techniques, the House of the Century, designed as a communication area with organic and suggestive shapes.
The issues of image and its mediation are an essential part of their work. When the first Sony Portapak portable video cameras are launched, thus initiating video art, the group starts filming their projects and editing numerous videos. On the 4th of July 1975 they shoot their most famous film " Media Burn ". Curtis Schreier and Doug Michels on board of their Phantom Dream car, a customised 1959 Cadillac fitted with a video system, drive through a wall of burning television sets, thus acting out the clash of two American symbols: the car and the TV. If Ant farm have become a reference for young artists, it is due to their community-oriented way of conceiving an art project in its critical or political sense.
Informations
Language(s):

English, French

Référence:

978-2-910385-50-7

Nombre de pages:

176

Couleur(s):

four colours - 200 illustrations

Type de reliure:

hard cover

Dimensions:

1 × 28 × 21 cm

Poids:

1100 g