Domaines publics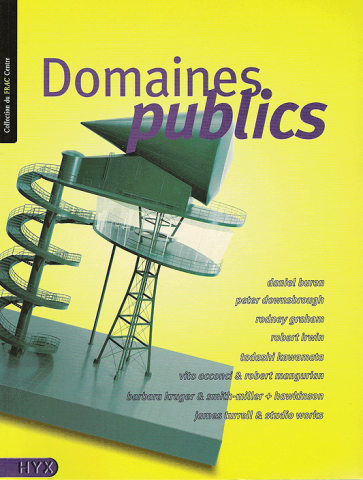 Domaines publics
This book presents the FRAC Centre collection of projects of public domain designed by artists with and without the collaboration of architects. Focused on architecture, the FRAC Centre collection gathers projects of public domains designed not only by artists, but also by artists and architects who endeavoured to develop a collaboration as soon as the first stages of the project...
Language(s):
English, French
Abstract
Contrary to the work grafted at the last minute in an urban space that remains, for its part, exogenous, some works, rejecting the permanency and steadiness usually imposed on public works of art, are evolving towards the notions of performance or perceptive actuation by visitors.
On this account, the FRAC Centre collection comprises the drawings of the most exceptional French achievements: Daniel Buren's "Deux Plateaux" in the great courtyard of the Palais Royal, in Paris, in which the visitor is taken to task as a sculptural component. This collection opens to Rodney Graham's specular thoughts, and his incorporating time into his perception of public space; to Kawamata's metabolic stretchings / extensions; to Robert Irwin's brilliant extrapolations; to Peter Downsbrough's minimal experimentations. The FRAC Centre collection also gathers exemplary projects by artists and architects: Vito Acconci's plan for the renovation of a university campus; James Turrell and Studio Works' plan for the illumination of a district which transfigure the urban elements into theatrical ones; or the "textualized landscape", designed by Barbara Kruger with the architects Smith-Miller and Hawkinson.
Informations
Language(s):

English, French

Nombre de pages:

92

Couleur(s):

four colours - 95 illustrations

Type de reliure:

soft bound

Dimensions:

1 × 17 × 22 cm

Poids:

340 g