Nouvelles architectures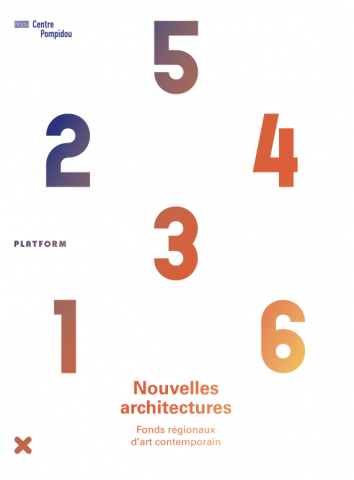 Nouvelles architectures
Fonds régionaux d'art contemporain
Signed by renowned architects (BIG & FREAKS, Decq Cornette, Lacaton and Vassal, Jakob+MacFarlane and Kengo Kuma), six FRAC called « new generation FRAC » (Aquitaine, Bretagne, Centre, Franche-Comté, Nord-Pas de Calais et PACA)enjoys experimental architectures to respond to the multifaceted activity of these cultural institutions to dealing with contemporary creation..
Abstract
The catalog "New architectures - Regional Funds for Contemporary Art", published as part of the exhibition at the Pompidou Centre (5/09 - 10/14/12) and the Thirtieth Anniversary of FRAC, presents for each of the six FRAC; program, sketches, construction, and interviews with architects.
Agencies and FRAC
BIG (Bjarke Ingels Group - Danemark) & FREAKS freearchitects (France) - FRAC Aquitaine, Bordeaux – La méca
Odile Decq Benoît Cornette (France) - FRAC Bretagne, Rennes
Jakob+MacFarlane (France) - FRAC Centre, Orléans 
Kengo Kuma & Associates (Japon) - FRAC Franche-Comté, Besançon – Cité des arts
Lacaton & Vassal (France) – FRAC Nord-Pas de Calais, Dunkerque
Kengo Kuma & Associates (Japon) - FRAC Provence-Alpes-Côte d'Azur, Marseille
Texts : Marie-Ange Brayer, Catherine Elkar, Aurélien Lemonier, Pascal Neveux, Hilde Teerlinck, Sylvie Zavatta, Anne-Marie Zuchelli.
.
Contents
ESSAIS // Une nouvelle génération de FRAC : six architectures pour l'action territoriale, Marie-Ange Brayer p 21 • Le Temps du chantier, Aurélien Lemonier p 29 • PROJETS // BIG (Bjarke Ingels Group - Danemark) & FREAKS freearchitects (France) - FRAC Aquitaine/Bordeaux – La méca p 35 • Odile Decq Benoît Cornette (France) - FRAC Bretagne /Rennes p 49 • . Jakob+MacFarlane (France) - FRAC Centre / Orléans p 63 • Kengo Kuma & Associates (Japon) - FRAC Franche-Comté/Besançon – Cité des arts p 77 • Lacaton & Vassal (France) – FRAC Nord-Pas de Calais/Dunkerque p 91 • Kengo Kuma & Associates (Japon) - FRAC Provence-Alpes-Côte d'Azur/ Marseille p 105 • Annexes p 118-125
Informations
Language(s):

French

Référence:

978-2-910385-80-4

Nombre de pages:

128

Couleur(s):

quadri - 230 illustrations

Type de reliure:

soft bound

Dimensions:

1 × 21 × 27 mm

Poids:

600 g

Partenaire:

Published with the support of : Centre Pompidou, Platform – Regroupement des Fonds régionaux d'art contemporain avec le concours du Ministère de la Culture et de la Communication